The fair will take place in Bilbao from 5−7 April and will bring major energy sector companies together to present and discuss new solutions for the wind energy sector.
ACCIONA in WindEurope 2022
From 5−7 April ACCIONA will Present New Solutions to take part in the WindEurope 2022 fair in Bilbao dedicated to the development of renewable energies in Europe, and specifically to wind power (both onshore and offshore).
WindEurope 2022
The event will bring together several companies from the energy sector to discuss the role of wind energy in Europe in a series of sessions and round tables, presenting new contributions and discussing future challenges faced by the sector.
Acciona, S.A. is a Spanish multinational conglomerate dedicated to the development and management of infrastructure and renewable energy. The company, via subsidiary Acciona Energy, produces 21 terawatt-hours of renewable electricity a year. (source: Wiki)
Cooperation with BlueNewables
ACCIONA's New Solutions will have a stand at the fair where it will present models of its two latest floating solutions for the installation of offshore wind turbines, both co-developed with BlueNewables: S-bos (semi-submersible) and CT-bos (TLP).
Mass Production
Both ACCIONA's new solutions can be industrially mass-produced with a view to reducing the manufacturing costs of the offshore wind power sector, providing solutions that can be easily adapted to offshore wind turbines of different sizes and sea depths.
ARGO Project
ACCIONA new solutions also have another concept called the ARGO project, an innovative formula for industrializing the manufacturing, assembly and transport of foundations through the use of concrete, which is more competitive and durable than steel for this purpose and avoids environmental problems during pile driving, particularly in hard ground.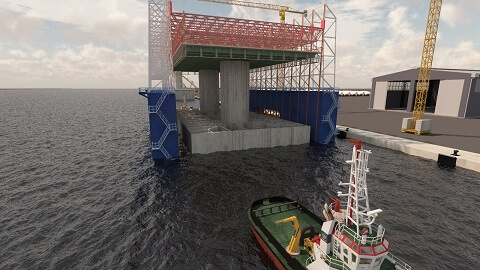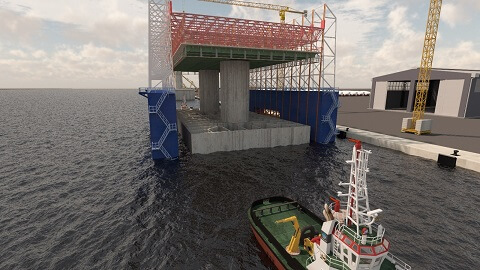 Advantages of the New Technology
This new technology reduces the manufacturing and installation times of foundations and may even allow the assembly of the wind turbines in the port where the foundations are manufactured; the completed unit is then transported to its definitive location, among other advantages.
Floating Wind Power Solutions
Aspects such as floating wind power solutions, the importance of totally European supply chains, high energy prices, material sustainability and recycling, and digitization aimed at reducing costs are some of the main themes that will be discussed in the fair.
Study and Development
Through the study and development of these solutions ACCIONA is contributing to the development of the offshore wind power sector and driving renewable energies worldwide.